North Carolina State President Daisy Dolicker's project for here 2018-2019 term is Helping Our Veterans Heal.   All funds raised by the project will be used to fund the provisioning of 3 additional service dogs to North Carolina veterans in need.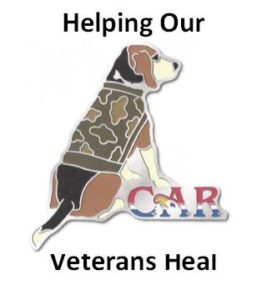 The VA defines a service dog is a dog trained to do specific tasks for a person that he or she cannot do because of a disability. Service dogs can pick things up, guide a person with vision problems, or help someone who falls or loses balance easily. For example, a service dog can help a blind person walk down the street or get dangerous things out of the way when
someone is having a seizure.
Why this project important?  It will:
1) Help our veterans suffering from psychological and emotional injuries such asPTSD, traumatic brain injury (TBI) and depression.
2) Rescue dogs from kill shelters
3) Bring veterans-in-need and dogs-in-need together to heal each other.
You may purchase a pin for $10.00 or make a cash donation using this form 2018-2019 pin order form.   To learn more about the project download the 2018-2019 State Presidents Project Brochure or contact us:
Miss Daisy Dolicker
State President
StatePresident@ncscar.org
Mr. George Dolicker
Senior State President
SeniorStatePresident@ncscar.org